EDUCATIONAL CENTRE FOR CHILDREN
The Educational Centre for Children, which was inaugurated in 2008, aims to educate and familiarize children, both Cypriots and immigrants living in the old part of Nicosia, with the exciting world of art.
The building is a new addition to the complex of buildings of the Nicosia Municipal Arts Centre. It is a traditional building that has been renovated in order to function as an Educational Centre for children. The project has been funded jointly by the European Regional Development Fund of the European Union (50%) and by the state budget of the Republic of Cyprus (50%).
Among the specialized courses and workshops offered at the Educational Centre for Children are those dealing with Contemporary Art, Engraving, Theatre and the New Media. The programmes target children between the ages of six to sixteen and usually consist of twenty-thirty sessions, which give children the opportunity to broaden their knowledge through interactive courses of theoretical and practical content, as well as to create their own works.
One of the things taken into consideration in the planning of the Centre's programmes is the fact that in both the old part of Nicosia and the surrounding area there is a steadily increasing number of immigrants, whose children attend local schools. The operation of the Educational Centre for Children and the participation of the immigrants' children contribute to the assimilation of the children into the local community and society by offering creative activities and the experience of co-existence and cooperation between groups of individuals with different capabilities, behaviour and culture.
2020
CANCELLATION OF ALL COURSES OF NIMAC'S EDUCATIONAL PROGRAMME
Following recent developments and announcements on the spread of coronavirus in Cyprus, The Nicosia Municipal Arts Centre, Associated with the Pierides Foundation [NiMAC], acting responsibly and taking into account the relevant recommendations of the state authorities, announces the cancellation of all courses of the Educational Programme of the Arts Centre until the end of March.

In addition, we would like to remind you that the Arts Center is currently closed to the public because of preparations for the various events to be held in April.
We are monitoring the situation closely and will be back soon with further information.
Thank you for your understanding.
---
2019
Children' Exhibition, Monday 24 June, 2019, at 19:30, Theatro Polis OPAP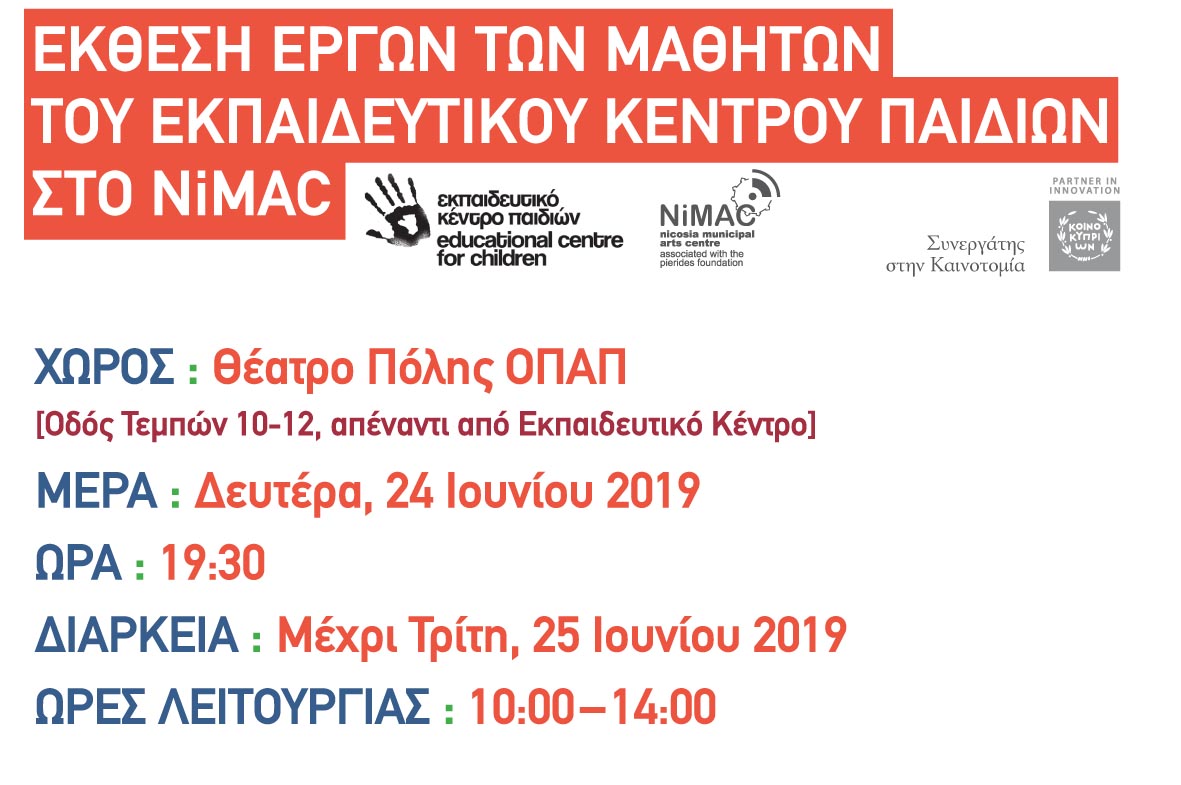 ---
2018
Children' Exhibition, Friday 29 June, 2018, at 19:00, Theatro Polis OPAP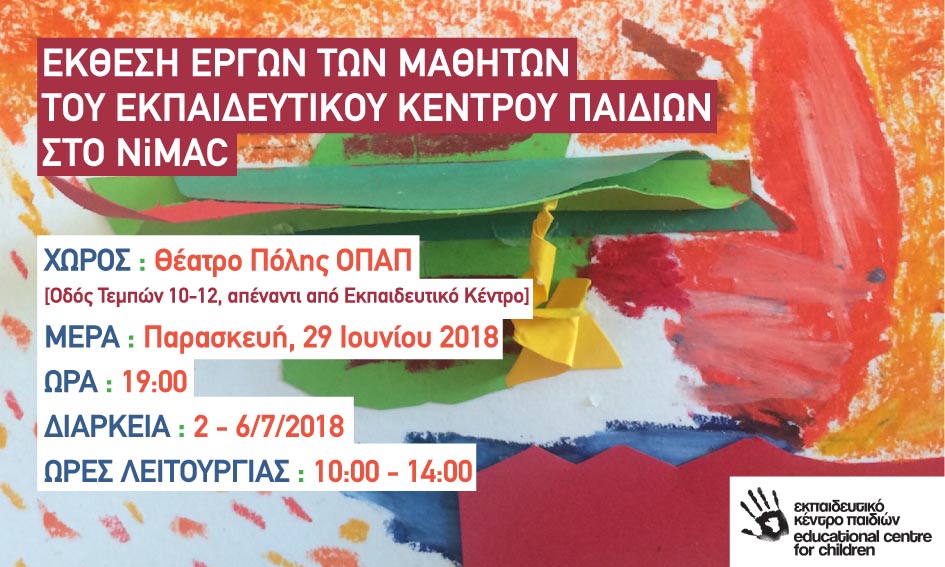 ---
2016
XromatiZO
Educational Programme for children, aged 5-8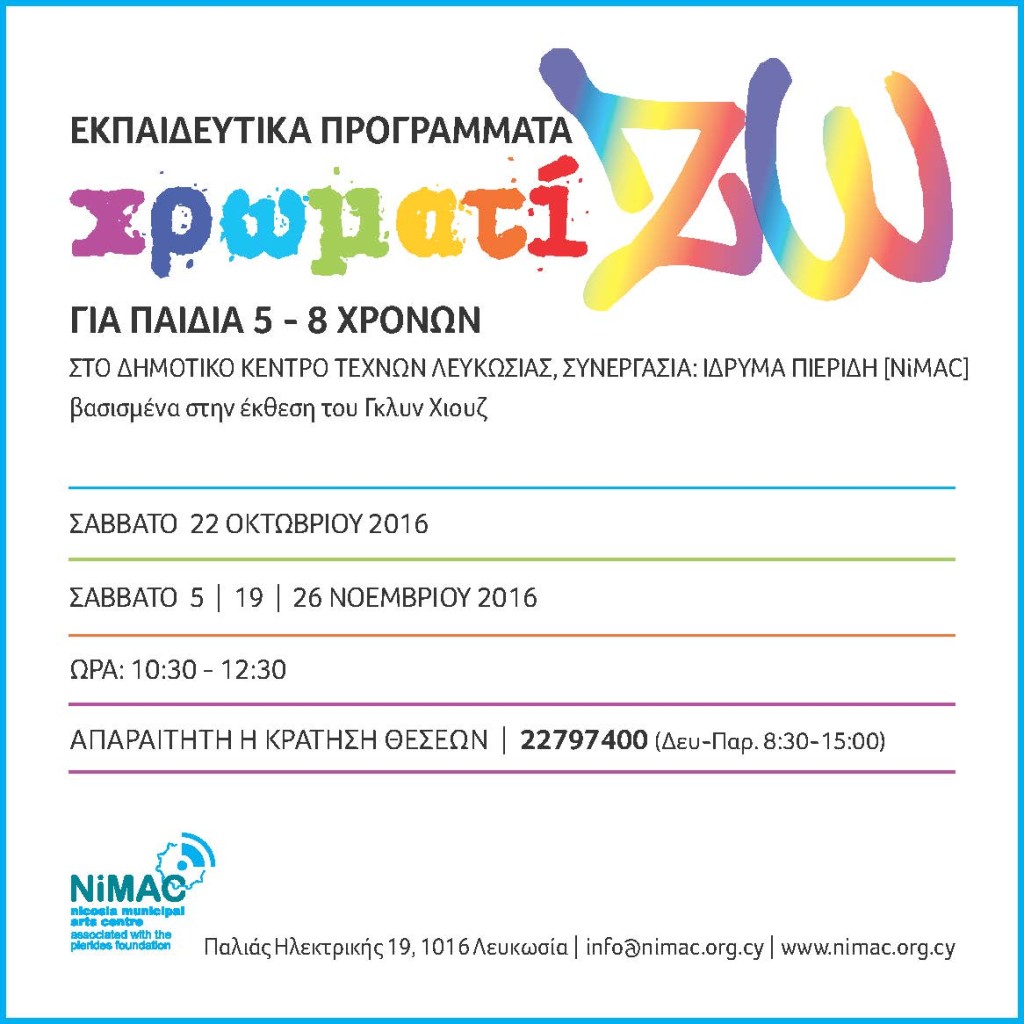 ---
2015-2016
Presentation
Opening: Tuesday, 23 June 2015, 18:00 @ ΝiMAC
Duration: 23-27 June 2015
Opening hours: Tuesday-Saturday: 10:00-21:00